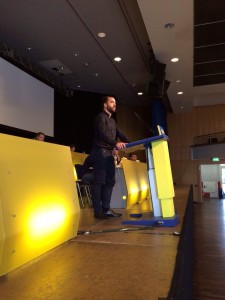 IFLRY Vice President, Bobby Dean, addressed the Julis (Junge Liberale) conference in Bonn, Germany this morning. The gathering of around 200 young liberals from across Germany was especially noteworthy as the youth wing of the FDP celebrated its 35th anniversary.
A new International Officer was elected at the event, with Katharina Schreiner taking over from Sven Hilgers, who moves into a new position of Vice President.
You can read Bobby's full speech below:
Thank you for welcoming me here to this conference and thank you for getting up on a Sunday morning to listen to me – I know many of you were partying late last night!
I'm sorry that I'm not addressing you in German. In England we are taught to believe that if we just speak slowly, or shout patronisingly, we can be understood anywhere. I've found out that's not really true.
So, I'm Bobby and I'm Vice President of IFLRY (that is the International Federation of Liberal Youth). We represent over 90 liberal organisations worldwide and exist to advocate for, and facilitate the exchange of, liberal ideas. We do that through things like our programmes, that focus on specific topics like Climate Change or Human Rights, or our Educational seminars – often five days worth of intercultural discussion.
Of course, we have a German to do our numbers. Daniel George is our treasurer – and he is still a Julis member I believe – but it is the International Officers that are our main point of contact. On that note, I would like to thank Sven Hilgers for his dedicated cooperation with us and congratulate Katharina Schreiner on her recent election. I'm looking forward to working with you.
I want to reflect on my latest trip with IFLRY, which was a visit to South Africa earlier this month with the Africa Liberal Network. I was lucky enough to meet some of the best young politicians from across the continent and I learnt so much about how truly creative the youthful force is.
These are people trying to build liberal democracies in a place where democracy often only means rigged votes at the ballot box. And yet they are finding the answers and making progress.
In Botswana, thanks to international co-operation on electoral strategy and organisational development. And thanks to the energy of youth. We now have a liberal party that has gone from just a few percentage points in the polls a few years ago, to the leading opposition party – right on the verge of ousting the only party that has been in power since the 1960s.
At the ALN event, I was asked to present on how to grow and strengthen youth organisations and I asked the delegates a question – what is the point of a youth organisation?
The usual answers came back – its a safe space to develop skills, an opportunity to practice leadership and make networks, and a way to champion young people's issues.
But for me something much more important came through. We as youth organisations are not strangled by the pragmatism that comes with electoral battles in the same way our mother parties are. So we can remain ideologically purer.
We can keep in touch with the true feeling of the nation and harness the creativity that young people have, to come up with innovative policy solutions that truly stick to what we believe in.
Now, I know that the FDP are going through a difficult moment. In the UK we're having a tough time too. It's our General Election campaign as I speak and we look set to lose around half our voters in a couple of weeks time. But that means that our role is more important now than ever.
On this fantastic occasion of your 35th anniversary, it is a chance to remember all that you have achieved but it is also a chance to remember the power you have to achieve wonderful things all over again. It is your ideas that will lead a liberal voice back into German government.
And if you are ever stuck for ideas – please, come along to an international event and you will get plenty of inspiration from your liberal friends across the world! Thank you.