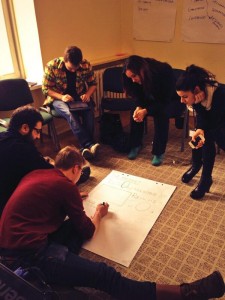 In the first part of a four-stage project, participants from across IFLRY's global network gathered in Krakow to discuss the vital issue of youth unemployment and youth autonomy.
The seminar entitled 'The (in)dependent youth: social cohesion = youth autonomy?' was supported by IDI/D66 and the Council of Europe and held across five days between Monday 27th and Friday 31st January 2014.
Using Non Formal Education (NFE) methods, participants explored key definitions, identified and debated crucial issues, heard from experts working in the field and progressed towards developing practical outcomes that can be implemented by their Member Organisations back home.
One of the central findings of the talks were that a fundamental mismatch exists between the education system and jobs market. It was argued that too many young people are leaving educational institutions, at every level, with skills that do not fit with the jobs that are available.
This mismatch particularly focused on the lack of "soft skills", things like communication, people skills and motivation, which businesses see as crucial to a worker's success but educational institutions have simply failed to stress the importance of. A group of participants designed a campaign to raise awareness of this issue and we hope to report more progress on this soon.
Another issue identified included the barriers to young people establishing their own employment through entrepreneurial efforts. A different group decided that one way of tackling this is to make good use of the existing capacity within educational institutions by providing space and facilities to aspiring young businessmen.
This seminar was the first part of IFLRY's four-stage Annual Work Plan focussing on youth autonomy. A seminar later on this year will follow up on the outcomes made by the participants in Krakow, before two local projects will be implemented on the ground in key identified regions. This means that our productive discussions will begin to see practical results before the end of 2014.
Stanislav Anastassov, recently re-elected Vice President of IFLRY and Course Director for the week, said:
"The whole team is delighted with how the week went. The participants clearly enjoyed themselves, made new networks and our discussions were really productive. This Seminar has got our Annual Work Plan on the topic off to a really strong start and we look forward to welcoming a new group to further develop our work later in the year."
To find out more about what the participants got up to in Krakow search #IFLRYkrk on Twitter – and if you were a participant, why not share your experiences below?l follow up on the outcomes made by this Seminar.