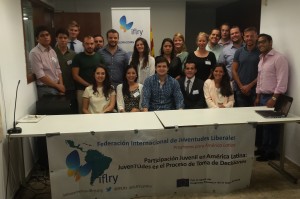 IFLRY's Latin America Programme hosted the second event in its one-year project 'You(th) in Decision Making'. In Barcelona delegates from no less than 10 Latin American countries, and 5 European countries came together to discuss this topic, reconnect, and make plans for the future.
Like in many regions in the world, liberalism faces many challenges in the Latin American region, and is commonly misunderstood. Participants from Mexico, Honduras, Colombia, Venezuela, Dominican Republic, Peru, Brazil, Paraguay and Argentina already agreed during the first event of the project in Buenos Aires on common challenges. These include apathy or disinterest among youngsters, but also hierarchical structures, lack of autonomy, and lack of knowledge about what liberalism stands for.
In Barcelona the focus was on the connection with Europe. Without saying that in Europe liberalism is thriving, there is a democratic culture with strong youth organizations who are eager to connect to their Latin American counterparts. Participants from Portugal, Spain, the Netherlands, Great Britain, Denmark and Norway were present to feed the discussions and to show good examples in their work.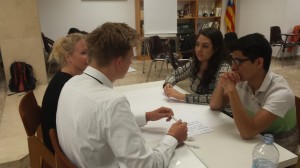 Also, the objective of the seminar in Barcelona was to start thinking in solutions and possibilities, rather than in problems and threats. This was already reflected in the language that was used during this seminar. The fact that Spanish is the main language (okay, Brazil speaks Portuguese) of the region, this should be presented as a strength. The European participants (with different levels of Spanish skills) also experienced that they were more capable to talk Spanish than they thought they were!
The participants developed possible interventions in their local community to address some of the identified challenges. These resulted mostly in on line campaigns to motivate young people to take action and start thinking about what should change in their surroundings. Also, the need was identified to inform members more about the official decision making structures in their communities.
All the participants have gone home with new energy to make a difference and build stronger liberal youth organizations. They all committed to make specific changes within their organizations. Towards the end of this year, the third phase of the project will take place in Santo Domingo, Dominican Republic, where the focus will be on making these people changemakers in their organizations and duplicate their newly acquired knowledge and experience.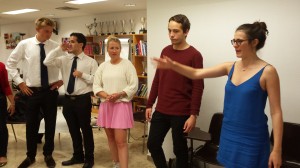 This seminar was not possible without the support of the European Commission's youth fund ErasmusPlus, with additional support of the Swedish International Liberal Centre. We also thank IFLRY Full Member JNC for support on the ground and arranging a hall to hold the seminar. Last but not least, we also want to thank the two speakers Emil Kirjas (Secretary-General of Liberal International) and Igor Caldeira (Secretary-General of LYMEC) for shedding light on international cooperation among liberals.
IFLRY's Latin America Programme is led by former IFLRY Treasurer João Victor Guedes Neto from Brazil. The programme is designed to further integrate the Latin American membership of IFLRY and provide more opportunities to engage in the worldwide network of IFLRY. The one-year project on youth in decision making is its flagship achievement, but noteworthy is also the translation of several of IFLRY's official documents into Spanish, and the creation of a blog latinoamerica.iflry.com.