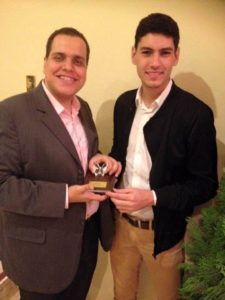 The award honours individuals or organisations that have shown an outstanding commitment to liberal values in the past year.
Nomination letters should be submitted by Member Organisations only and send to office@iflry.org latest by 3 December.
Representatives of Vente Joven accept the 5th IFLRY Freedom Award during the EC in Santo Domingo.
Previous IFLRY Freedom Award Winners
2011 – Maikel Nabil, Egyptian blogger
2012 – Sing for Democracy, Azeri NGO
2013 – Russian LGBT Network
2014 – 3H Movement, Turkey
2015 – Vente Joven, Venezuela