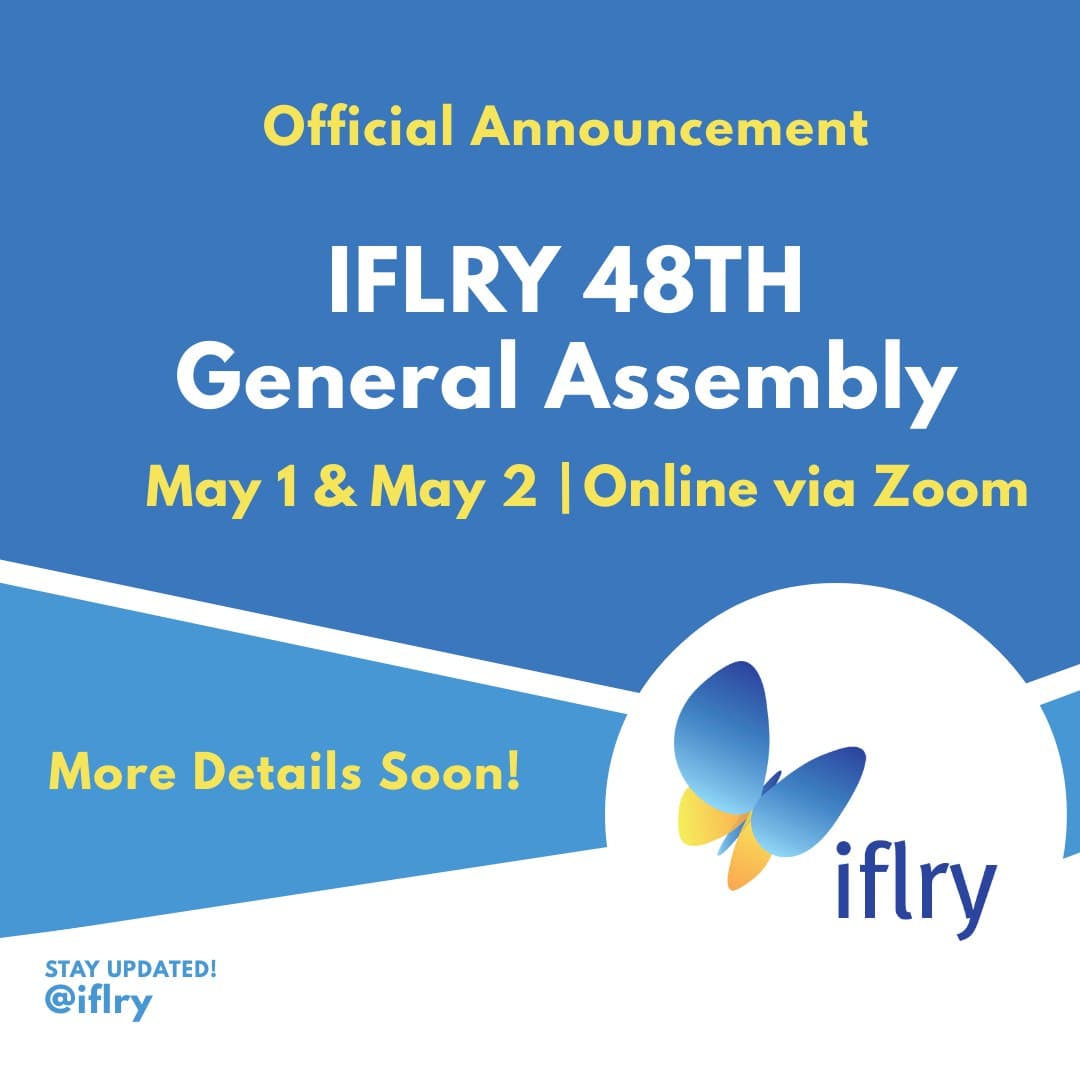 IFLRY General Assembly
Online, May 1-2, 2021
++++ NEW: GA Agenda is now available ++++
++++ IFLRY Action Plan 2020-2022 ++++
IFLRY will hold its 48th General Assembly online on the 1st and 2nd of May 2021. The General Assembly will gather member organisations from all over the world. The General Assembly is the highest decision-making body of IFLRY and will among other things deal with:
Membership Applications
Finances
Resolutions
Make sure to register by the 10th of April! Contact your international officer to learn about the possibilities you have for attending the event on behalf of your member organisation. Each organisation has to choose one person who is eligible to receive their votes that we will issue for voting on resolutions and finances. If you are the authorised person to receive the votes, please indicate that in the registration form.
Registration for the General Assembly can be found here.
Each MO is guaranteed as many spots as they have votes in the General Assembly. Should an MO wish to send more delegates, please let us know via statutoryevent@iflry.org as soon as possible.
Membership applications
If your organisation is not yet a member organisation of IFLRY, but you want to attend, please send an e-mail to the IFLRY secretariat (statutoryevent@iflry.org) with a description of your organisation before filling out this form. The deadline for submitting your complete application is the 17th of April. You can find the membership criteria here.
Solidarity Fund and reduced membership fee applications will be uploaded soon
Deadlines & timeline overview
Timeline (all dates are 11:59 PM CET Berlin time, unless indicated otherwise). See also: Statutes & Rules of Procedure
10th of April
Deadline for Registration
1st of April
Agenda
Deadline for amendments to the Rules of Procedure
Deadlines for amendments to the Statutes
Deadline for Manifesto amendments
Deadline for Motions to Suspend and Disaffiliate Member Organisation
IFLRY Proposed Code of Conduct
17th of April
Membership Applications
Bureau Report
Office Report
Annual Report
Auditors Report (circulate via E-Mail)
Financial Report (circulate via E-Mail)
Deadline for Resolutions
Deadline for Reduced Membership Fees Applications (circulate via E-Mail)
Deadline for Solidarity Fund Applications (circulate via E-Mail)
24th of April
Political proposals and manifesto proposals published

24 hours before the GA
Deadlines for amendments
All proposals by Member Organisations should be sent to the IFLRY office by e-mail: statutoryevent@iflry.org