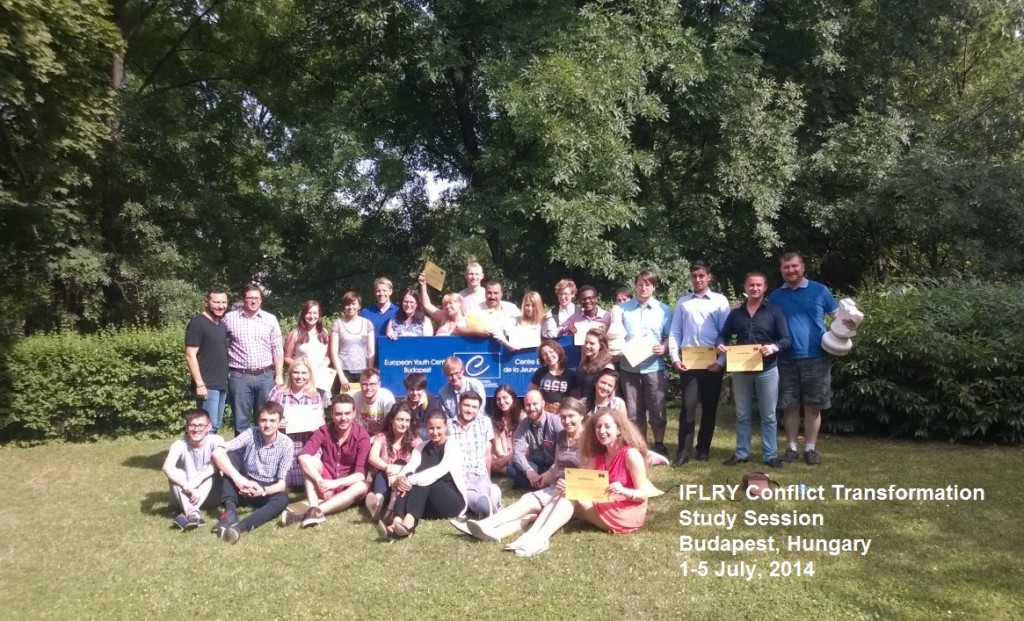 On 1-5 July, IFLRY held a Study Session (an activity held in complete cooperation and funded by the European Youth Centre Budapest) on Conflict Transformation in Budapest, Hungary. We are happy to report that the Study Session was a resounding success, with excellent learning points and follow-up opportunities for our educational activities in 2015.
In 2015, IFLRY will dedicate most of its educational activities to the same subject and thus will the Study Session outcomes be brought on to there.
Many interesting action plans were developed by the participants, ranging from cross-border dialogue efforts to workshops educating people about Conflict Transformation. The session brought together, as all IFLRY activities do, people from diverse backgrounds, this time with the common aim of transforming conflict. Indeed, in a group of just over 30 people, 20 nationalities were represented.
The session was also a great success for Non Formal Education (NFE). NFE is, as the name suggests, the opposite of formal education. During the study session, lectures and tedious PowerPoint presentations were kept to a minimum, instead focusing on group activities, dialogue and sharing experiences in an environment that encourages creative thought.
IFLRY would like to thank the EYCB staff, the facilitator team and all participants for making this such an inspiring event!