Call for Participants
Study Session "Youth as Conflict Transformers: Building a Peaceful Europe Together"
July 1 – 5, 2014 in Budapest, Hungary
Arrival 30 June – Departure 6 July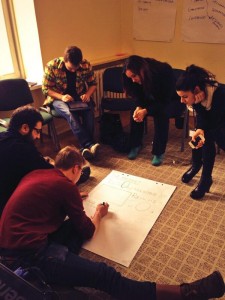 It's our pleasure to invite you to the IFLRY study session "Youth as Conflict Transformers: Building a Peaceful Europe Together". The study session will be held at the European Youth Centre in Budapest (Hungary) from 1 to 5 July 2014. This study session is organized by the International Federation of Liberal Youth in co-operation with the Council of Europe.
Aims of the study session: The aim of the study session is to strengthen young people in becoming actors and multipliers in the process of conflict transformation in Europe. It aims to create an environment where each participant will be able to share feelings about the conflicts they or their countries have been through. The focus will be to explain what has been the outcome of those conflicts from their own perspective. An important part will be to listen to each other's stories and thus see the conflict from all sides.
Objectives:
To offer a safe space for participants to speak about conflict and how it has impacted their lives, and to state freely ways how the conflicts can be transcended; to secure an open-minded and constructive debate that will allow each participant to reflect on their own conflict as well as the others;
To get a better understanding of conflict transformation as a concept, the difficulties that come with it, and how it fits in the wider context of conflict management, peace education, peace-building, etc;
To specifically address the importance of young people in being actors of change in a national, regional and European context; to learn more about tools and skills that exist, how they can be utilized and adapted most effectively, and how the Council of Europe helps youth in this field.
The educational approach will be centered on teamwork and a hands-on focus on output.
The application for the event will be possible through an online form, to be found here. The deadline for application is 30 April for applicants who require visa and 15 May for those who don't need visa to enter Hungary. Additional information regarding the seminar can be found here: Invitation Study Session Budapest 2014. If you have further questions, please do not hesitate to contact the IFLRY office at office@iflry.org.
We look forward to seeing you in Budapest!