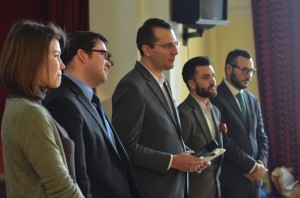 IFLRY's 36th Annual General Assembly, the flagship event that sees young liberals from across gather together, took place in Kraków, Poland, from 24-26 January 2014 – courtesy of our local hosts, Projekt Polska.
Member organizations from around the world sent delegations, bringing together over 120 young liberals to discuss resolutions, decide on new member applications and vote for a new Bureau.
Resolutions
In the Standing Committee on Resolutions, a variety of political topics were discussed. Resolutions on Belarus and Catalan self-determination were widely agreed upon, while a resolution calling for a travel document for whistle blowers caused much debate before finally being adopted. Further topics that IFLRY took a stance on included privacy, rise of extremism and LGBT+ rights in the Commonwealth.
The adopted resolutions on Ukraine; Human Rights and Mega Sports Events; and on the Right to Safe Abortion have been consequently submitted as input for the Liberal International Congress on 24-27 April 2014 in Rotterdam, the Netherlands. (All resolutions can be viewed here).
Member applications
We were pleased to see the IFLRY family grow as the General Assembly accepted Estudantes pela Liberdade (Brazil) and Association de Jeunesse et l'Avenir (Morocco) as candidate members of IFLRY. Two others were accepted as observer members; YDM VESNA (Russian Federation) and VIVA (Tanzania).
Nikolay Artemenko from YDM VESNA spoke of the importance of belonging to IFLRY, when he said:
"For us, membership in IFLRY is so much more than just being able to communicate with international liberals. For us, first of all, it is the feeling that we are not alone and young people in dozens of other countries hold the same views, and that we are fighting for the same things – for freedom and democracy! It gives us confidence and hope that with your support we will do more and better for freedom in our country."
Elections
This years GA was notable for the need to elect a new bureau for the next two years. During the well-deserved thanks to the former Bureau for its two year effort, outgoing President Thomas Leys ended his farewell speech with a quotation from the Peruvian Nobel laureate Mario Vargas Llosa:
"The experience of freedom, just like that of love, is so rich that it is beyond definition. But as impossible it is to define her, as easy it is to identify her, to know when she is there, if she is real or if she is false and whether we enjoy her or are deprived of her."
We would like to extend our thanks to Thomas and the entire former Bureau.
After a weekend of lobbying, the GA reconvened on Sunday morning to place their votes. We are pleased to announce that the newly elected Bureau for 2014-2016 is as follows:
President – Christian Scharling (RU, Denmark)
Secretary General – Frerik Kampman (JD, Netherlands)
Treasurer – Daniel George (JuLis, Germany)
Vice-President – Stanislav Anastassov (YMRF, Bulgaria)
Vice-President – Bobby Dean (LY, United Kingdom)
Vice-President – Danylo Korbabicz (YLC, Canada)
Vice-President – Ahmad al Rachwani (Future Youth, Lebanon)
They are joined by the existing Regional Board Members Ivo Thijssen (representing LYMEC) and Nant Thananan (representing CALD Youth).
Newly elected President, Christian Scharling, said:
"It was especially encouraging to have a strong Latin-American presence in Kraków, with delegations from Venezuela, Brazil and Paraguay. With this great attended GA, a momentum was given to the newly elected Bureau – allowing us to endeavour new adventures for our common Federation!"  
Local host Rafal Skuzlarek,  Projekt Polska said:
"Poland had the opportunity to co-organize a GA and seminar in Krakow. We were very pleased to host young liberals from all over the world in our country. We hope that everyone had fun in Krakow and had the opportunity to experience Polish hospitality."