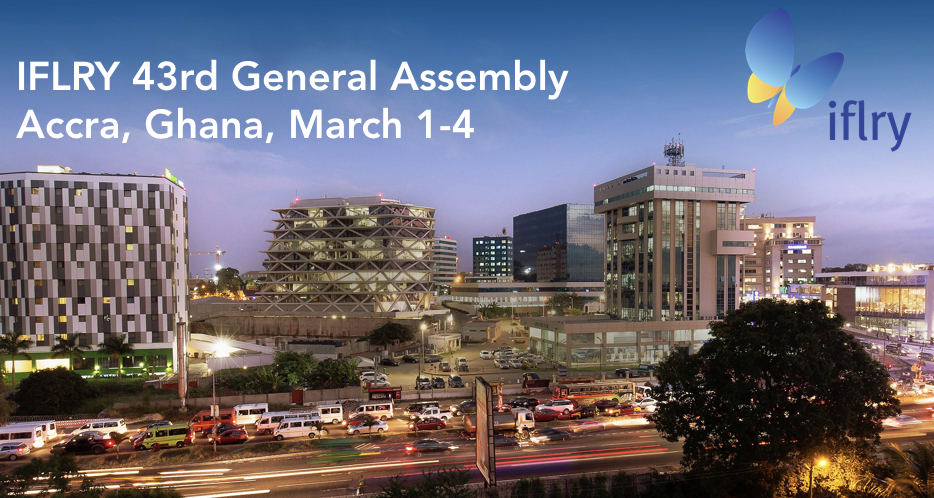 General Assembly & Conference 'Freedom Fights in the 21st Century'

IFLRY will hold its 43rd General Assembly in Accra, Ghana from 1st until 4th of March, 2018. The General Assembly will gather Member Organisations from all over the world. The General Assembly is the highest decision-making body of IFLRY and will among other things deal with:
Bureau and Auditors election

Statutory changes

Resolutions

Membership Applications

Finances
We will host a conference and a two-day General Assembly. This page will be updated regularly with more information.
Registration for the General Assembly + Conference can be found here.
The deadline for registrations is February 4th. Contact your international officer to learn about the possibilities you have for attending the event on behalf of your member organisation. We will accept applications on a rolling basis, so the sooner you register, the sooner you can go ahead and book tickets.
All member organisations will be guaranteed a number of participation spots at General Assemblies in line with the number of votes, as per the Rules of Procedure. If more spots are available, additional participants can register for 200% of the participation fee. Should an MO wish to send more delegates, please let us know via statutoryevent@iflry.org as soon as possible. In this case, we will confirm the delegates by the deadline. Please do not book any travel until your participation has been confirmed.
Participation fee and accommodation
Conference + GA (incl. hotel) = €100 per delegate*
Conference + GA (excl. hotel) = €50 per delegate**
OBS: You have to secure your own accommodation and food if you are planning to stay extra days in Accra.
*This will cover accommodation for the nights of 1st, 2nd, 3rd of March, breakfast and lunch on the 2nd, 3rd and 4th December, and dinner on the 2nd and 3rd December.
**This will cover lunch on the 2nd, 3rd and 4th and dinner on the 2nd and 3rd December.
Visas
Please visit this website here and here for information on how to obtain a visa to Ghana. Procedures may vary according to your nationality and in some cases, you may be exempt. Please note that the visa procedure may take several weeks, so please apply for your visa in good time!

Citizens from the following countries do not require a visa to enter Ghana. African nationals and members of the African Union can obtain visa on arrival at the entry point including the Accra Airport on the payment of the visa on arrival fee of US$150 to the Ghana Immigration Service and will be receipted.
For countries without Ghana High Commissions, Embassies and Consulates, we can apply for permission to receive a visa upon arrival. The single entry visa fee is US$150 to be paid at the point of entry to the Ghana Immigration Service on arrival and it will be receipted. Visa on arrival applicants will need the approval letter from the Ghana Immigration Service before they can travel and it takes time for this to be issued. To be able to do this, please send an email to tone.bjorndal@iflry.org and richard.amarh@africaliberalyouth.org with the following information:
A scanned copy of your passport

Full name (as in passport, mark surname as bold)

Date of birth

Place of birth

Nationality

Passport number

Date passport issued

Expiry date of passport

Date and time of arrival

Airline and flight number

Date and time of departure from Ghana

Airline and flight number

A short explanation of why you need Visa on arrival
Our partners will then try to get an official letter from the Immigration Office. If this is successful, the letter should be presented when boarding your flight, and showed to obtain your visa upon arrival. The deadline for submitting this is February 9th.
If you require further assistance, such as a visa letter, from IFLRY please contact the office (statutoryevents@iflry.org) as soon as possible.
Vaccines
Make sure you are up-to-date on routine vaccines before your trip. These vaccines include measles-mumps-rubella (MMR) vaccine, diphtheria-tetanus-pertussis vaccine, varicella (chickenpox) vaccine and polio vaccine.
Yellow Fever: Required for arriving travelers from all countries if traveler is ≥9 months of age.
Hepatitis A: recommended because you can get hepatitis A through contaminated food or water in Ghana, regardless of where you are eating or staying.
Malaria: You will need to take prescription medicine before, during, and after your trip to prevent malaria. Your doctor can help you decide which medicine is right for you, and also talk to you about other steps you can take to prevent malaria.
Meningitis: recommended if you plan to visit parts of Ghana located in the meningitis belt during the dry season (December–June), when the disease is most common. Also recommended if you're staying for longer than 1 week.
Travel reimbursement
There will be no travel reimbursement available for the IFLRY General Assembly and Conference. However, the IFLRY Office is able to provide you with a cover/support letter, should you wish to privately fundraise your travel.
Bureau and Auditor elections
There will be held elections for a new bureau and two new auditors! In the Bureau, the following positions are up for election:
President (two year term)
Treasurer (two year term)
Secretary General (two year term)
Four (4) Vice Presidents (one year term)
In order to be a candidate you have to submit a written nomination from a full member organization to office@iflry.org. You may also submit a letter of motivation and a CV. If you have questions about the positions, please get in touch with the current Bureau or auditors. Deadline: February 1st

Membership applications
If your organisation is not yet a member organisation of IFLRY, but you want to attend, please send an e-mail to the IFLRY secretariat (office@iflry.org) with a description of your organisation before filling out this form.
If you are a member organisation that wish to apply for a different type of membership, you may do so by submitting the application form and necessary document to the office.
The deadline for submitting your complete membership application is February 15.
Deadlines & timeline overview
Timeline (all dates are 11:59 PM GMT London time, unless indicated otherwise).
1 February
Deadline for nominations to the positions of Bureau of Auditors
Agenda
Deadline for amendments to the Rules of Procedure
Deadlines for amendments to the Statutes
Deadline for Manifesto amendments
Membership Fee Statute Published
Deadline for Motions to Suspend and Disaffiliate Member Organisation
Budget published
4 February
Deadline for registration
8 February
Motions to suspend published
Motions to expel published
15 February
Deadline for Solidarity Fund Applications
Deadline for Membership Applications
Financial Report published
Deadline for applications Reduced Membership Fees
Reports published: Bureau reports, Annual report, Auditors report and Office report
Deadline for Resolutions
22 February
Political proposals and manifesto proposals published
24 hours before the GA
Deadlines for amendments

All proposals by Member Organisations should be sent to the IFLRY office by e-mail: statutoryevent@iflry.org
General documents
All documents concerning the General Assembly can be found in this section. Please check back regularly for more documents being uploaded, here or in the GA Google Drive. 
Programme
IFLRY General Assembly Agenda
Bureau nominations
Auditors nomination
Membership Applications
Membership Issues
Changes to the Rules of Procedure and Statutes
Manifesto
Annual Report
Bureau Reports
Office report
Resolutions
Minutes of the IFLRY General Assembly in Beirut
Auditors report
Urgency resolutions
Amendments to the Resolutions